Next Batch Starting
Soon
Soon
Starting Digital Marketing Course | Batch 4 
Placement Assistance | Live Sessions | Mentor Support
Let's begin our journey by understanding what Digital Marketing is all about and progress our way to the corporate world opportunities. Get real-time experiences and insights on how the market works and learn from the best mentors and their adventures!
₹25,000
₹30,000
You can pay in 3 easy installment*
MFB Courses | IG : @mfbcourses
Modules-
1 Content writing & marketing
2 Graphic designing
3 Video Editing
4 Social Media Strategy
5 Digital ads
Modules-
1 Website + SEO
2 SEO ( On page & off page )
3 E-commerce website & marketing
4 Domain name & hosting
5 Content Marketing
COMPLETE DIGITAL MARKETING COURSE
Modules-
1 Complete Social Media Marketing Course
2 Website + SEO course
3 Client Pitching & conversions
4 Freelance Projects
5 One month Internship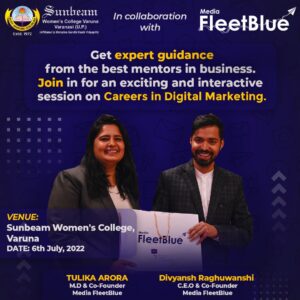 What is SEO Course? SEO! You often have heard the word SEO when it comes to digital marketing courses. There are a lot of things
This course introduces you to the modern mechanism of business world. All brands these days are working towards a global recognition and a good digital marketing course can help you understand the basics to this revolution!
There is no special eligibility for this course. If you have completed your graduation or are still pursuing, it is a perfect opportunity for you to join this course. It will prepare your profile and make you aware of how the modern marketing works.
Yes! We do not want to burden you with the fees all at once. Connect with us to customize your installments options. We encourage you to earn and learn as well.