Varanasi's 1st
Agency-Based
Digital Marketing Training Centre
Learn Website Development, SEO, Social Media Marketing, Digital Ads, PR, Graphic Designing, Client Pitching, Sales & Conversions, Performance Marketing and Portfolio Building with best mentors in your city at
Media FleetBlue Courses
.
Grab a seat now & get an early bird discount of
Rs. 3,000. Limited seats only.
Batch starts: October 15th, 2023
Digital Marketing Capsule Course
Home / Courses / Digital Marketing Capsule Course
Welcome to the exciting world of digital marketing! Whether you're a business owner looking to expand your reach or a marketing professional looking to enhance your skills or a student wanting to gear up for a digital-friendly future, this course will equip you with the knowledge and skills you need to succeed in the digital marketing landscape. Get ready to take your marketing skills to the next level!
Digital Marketing Courses
MFB Digital Marketing Course (4 Months)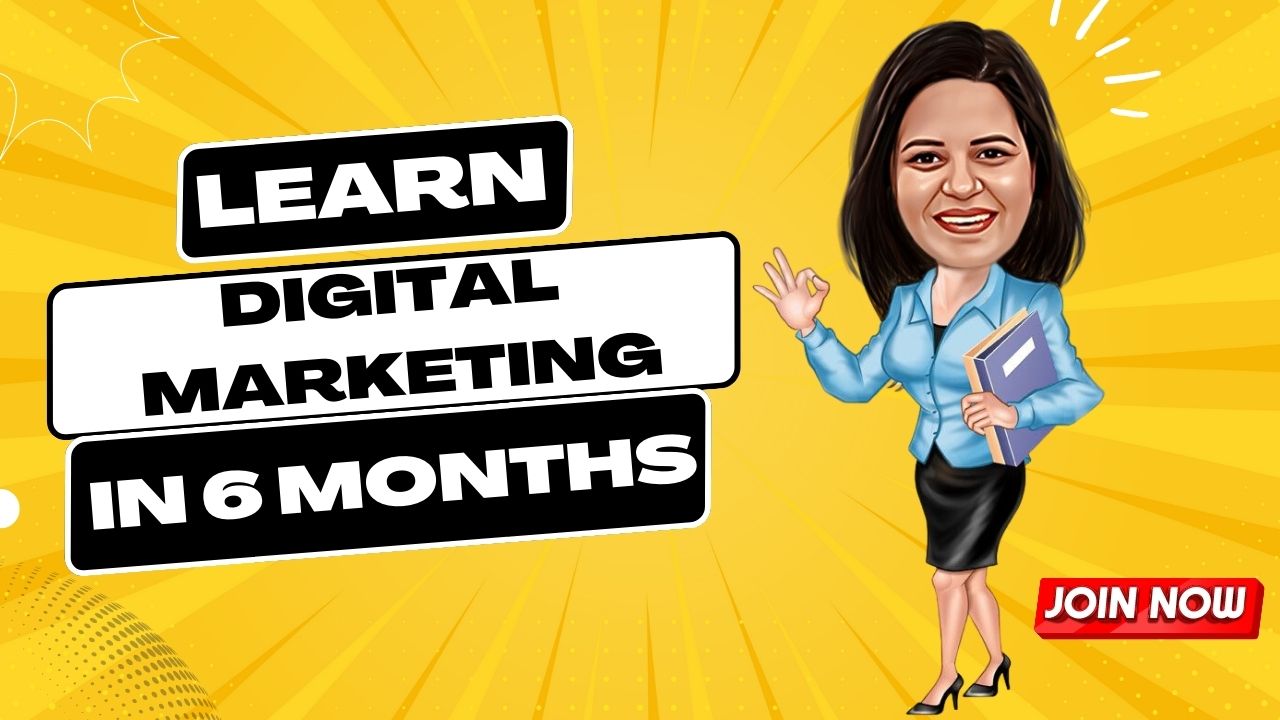 MFB Digital Marketing Course (6 Months)
MFB Digital Marketing Course for Business Owners (1 Month)
Who is this program for ?
Business Owners
Gain the skills and knowledge necessary to develop a strong online presence.
Students / Freshers
This course gives you a head start while you're busy with your studies or new job.
Freelancers
The more you expand your skills, the more diverse is your freelancing portfolio.
Coaches
Make your presence known online and increase your number of enrollments.
Did you say "YES" to any of these questions below?
If you nodded "Yes" to any of these questions, this course is meant for you.
If you nodded "Yes" to any of these questions, this course is meant for you.
You should save a seat for yourself before it runs out.
Here is a month-wise schedule of what you'll learn in our 4 months Digital Marketing course:
Do you think Digital Marketing
is a
Recession - Proof

Career?
We did all of this on our own!
Do you think you need a Graduation degree to work with your dream clients? Well, let us tell you the truth…
Hi, my name is Tulika Arora. From founder to educator, content creator to branding strategist – I do it all with passion and a smile. With experience as the Social Media Head for IndianOil for 5 states, and multiple projects in Bollywood film industry alongside Akshay Kumar and Ayushman Khurana, I'm the go-to for Digital Marketing, Sales, Branding and Advertising. Ranked top in Varanasi, I'm only going up!
My journey that started with 5 years of industry experience to the founder of Media FleetBlue has been rewarding. With expertise in SEO and digital marketing, I generated Rs.1 Million revenue for a client – confirming my passion for this field.
Now, I'm excited to guide others in their digital marketing journey. Keep learning, upskilling, and experimenting to stay on top – I believe with hard work, any battle can be won!
We have worked with 200+ clients in just 3 years time and we exactly know what works and what doesn't.
But you don't have to spend so much time learning all this.
Still Looking for a reason to join our course?
Hear what our students have to say: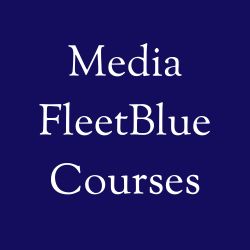 Media FleetBlue - Courses | Best Agency Based Digital Marketing Institution
Based on 100+
Powered by Google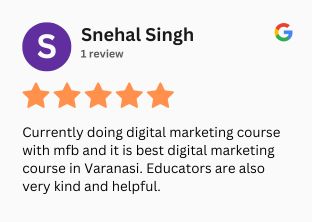 Unlock these Bonuses and Experience of a lifetime!
Client Meeting with Tulika Arora
Accompany me and learn how to pitch ideas to clients.
Networking with Influencers
Get a chance like no other to interact and network with influencers. Exciting, right?
Personal branding helps you establish a unique identity and reputation that sets you apart from others in your industry or field.
Free access to our newsletter to keep you up to date with the latest trends and technologies.
 Experience and learn the importance of team management by working with a team of dedicated digital marketers.
A unique chance to get your own website absolutely free and made under the guidance of experts.
You might have more questions. We've answered them:
Top Benefits of a Digital Marketing Course are:
Added advantage in CV.
87% of recruiters prefer Digital Marketing students.
You can start earning before your UG/PG finishes.
High-paying Jobs.
Stay Relevant with today's time.
Opens up diverse career opportunities.
The program is open to applicants over the age of 16. However, a 12th-grade pass (10+2) with at least 50 percent of the total marks or an equivalent grade will be preferred.
Also, the course is suitable for:
College Kids
Business Owners
Freelancers
Job Holders
Start Ups
You can start earning right after completing the Digital Marketing course. We provide guaranteed internships and 100% placement assistance as well.
Reasons to join MFB Courses:
Attend Live Sessions
Work on real-time projects
1-on-1 sessions by experts
Guaranteed Internship experience with Rs. 5000 Cashback*
Placement assistance
Affordable Price
Hands on experience with digital marketing tools
Yes, MFB Courses have free demo classes for their students in Digital Marketing. Contact us to book a demo class.
We have 4 courses to offer:
4 Months (3 Months Course + 1 Month Internship)
6 Months (3 Months Course + 3 Months Internship)
1 Month (For Business Owners)
1 Month Summer Program for 12th Students 
In today's fast-paced world, digital marketing has become an essential tool for businesses to connect with their target audience.
Varanasi, India – Media FleetBlue, the top digital marketing agency in Varanasi has recently announced the launch of its own digital marketing….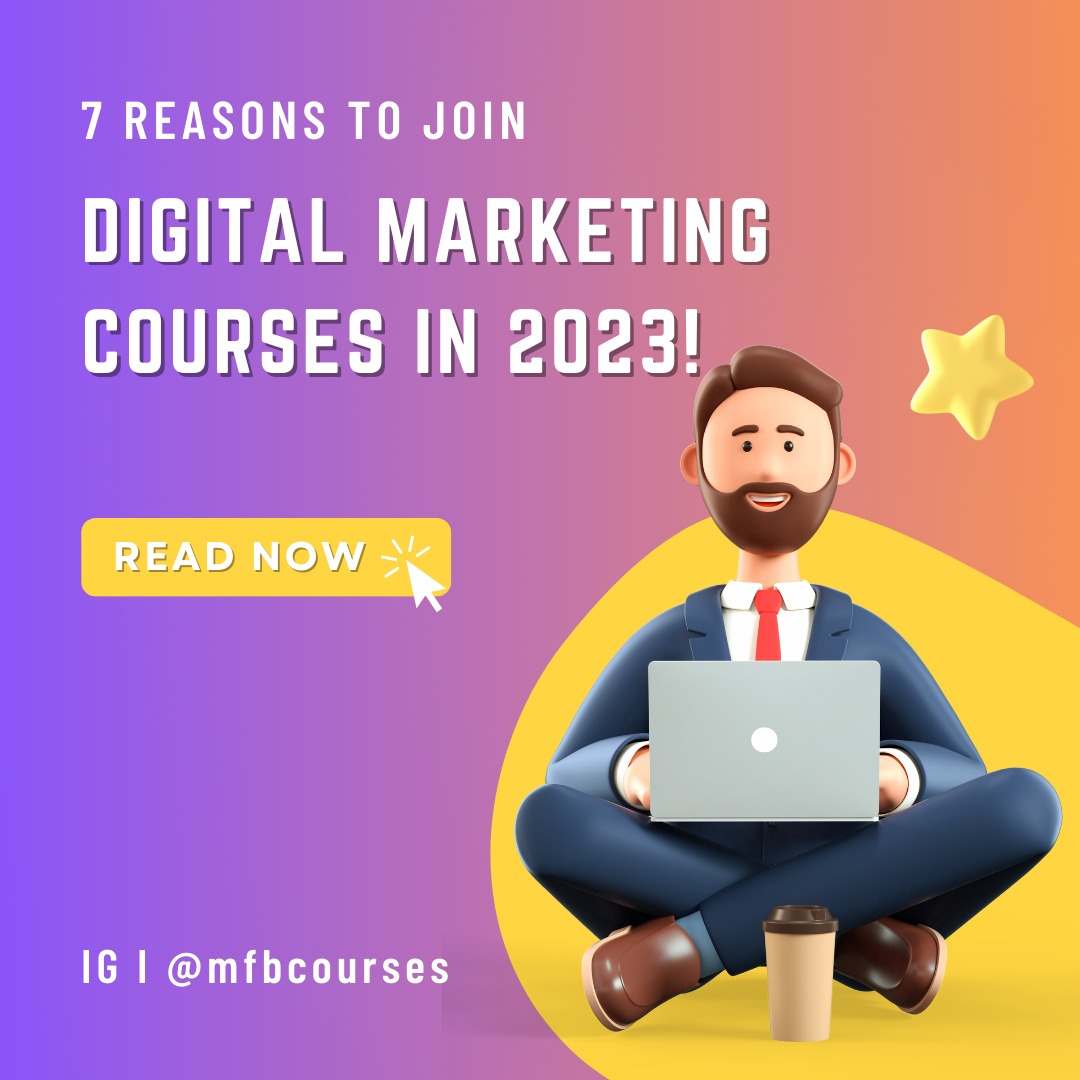 The way we interact and receive information has evolved as a result of recent technological advancements and corporate adaptations.
So, you've reached the end of the page and still not signed up?
It seems like you need a little more convincing.
No issues, you can visit (or even better, follow) our Instagram, Facebook and Youtube pages, and then make up your mind to enroll in our course for once and for all.