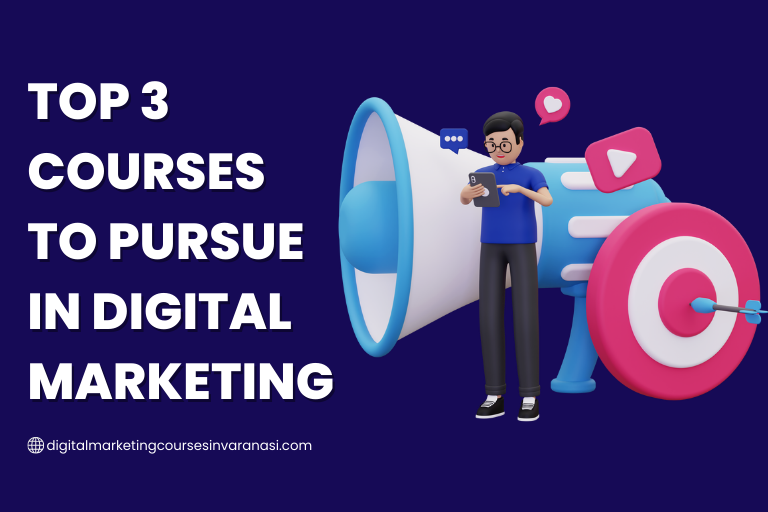 TOP 3 Courses to pursue in Digital Marketing
Digital marketing has emerged as one of the most popular sectors in today's world of the internet, gadgets, and technology. It is crucial for business owners, entrepreneurs, and marketing experts to possess this expertise. Surprisingly, the demand for skills in the field of digital marketing outweighs the supply by a wide margin. For individuals seeking to enter the sector of online marketing, this presents a wealth of chances.
Let's look into top 3 courses to pursue in digital marketing in Varanasi that can help you reach great heights in your career!
Complete Digital Marketing Course
Who is this for?
Entrepreneurs
Students
Freshers
Marketing Managers looking to upskill their digital marketing expertise.
Content marketers looking to broaden their skillset.
Students looking for an introduction to digital marketing.
What you'll learn:
How to earn from social media
Optimize your website for search engines.
Create a non-paid strategy to build and grow a following.
Create an ad strategy to amplify your business message to a targeted audience.
As the name suggests, this course is a compressive group of various classes which are tools needed for effective digital marketing. Any brand or business works on this system and ensures the highest returns.
A complete digital marketing course ensures that businesses attain maximum profits through scaling trends and techniques that work best for them. Learning digital marketing from a good institution helps you understand the tricks involved in digital growth and enables you to scale your career to great heights.
Website + SEO Course
Content is everything today. Content is the most crucial factor in ensuring that a business or a brand is heard. Good content attracts numerous clients. It is a connection between the brand and the consumers. Learning content is not just writing stuff but also understanding what works best for your brand. Marketing techniques ensure you learn what kind of description and keywords are preferred. Knowing the SEO techniques also helps you understand how to achieve successful business growth through content.
Who is this for?
Marketing Professionals
Inbound Professionals
Content Producers
What you'll learn in media fleet blue:
Captions
Copy
Trending blog marketing
Website content
Email marketing
Social Media Marketing Course
Who is this for?
Aspiring Marketers
Marketing Managers
Directors
What you'll learn:
Learn how to make your paid media as efficient as possible.
Learn how to plan paid media for each step in the buyer's journey.
Learn how to allocate paid media budget to bring ROI.
Social media is the most crucial driving factor of every brand today. Various brands and businesses help create a way that works relentlessly to connect brands with consumers.
Therefore, enrolling in a social media management course can help you understand basic SEO, hashtags, and trends. It is a process to know how the brands are taken by the consumers and also helps to understand the demands and help with the supply.
Finally,
Now that we are through with the top 3 courses to pursue in digital marketing , we need to know an institution that provides Digital Marketing Courses in Varanasi with practical methods to learn and help in getting a successful career. Media Fleetblue is one such stop that provides you with various classes, all on a single website.
With tremendous and effective mentorship, they ensure that the courses are well understood, and the students gain real-time experience. Additionally, this sector is constantly evolving, and we frequently observe the emergence of new digital marketing trends. As a result, executives and professionals must stay current with these trends and technologies if they want to remain relevant. Staying up to date with these newest tactics and trends may be done quickly and easily by taking online courses in digital marketing.
Did you like the read? Do you wish to enroll in one of these courses? Why wait? Visit us now and give your career the digital boost that it needs.
Contact: +91-9580484413
Email Id: mfbcourses@gmail.com